This awesome award has been given to me twice within the last few days :-) Two of my sweet friends thought of me when presenting this. Thank you very much Peta & Alexe!!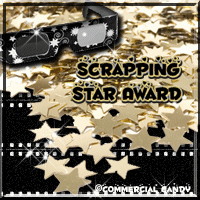 Check out thier blogs for the latest...
Peta @
PSP Scrappers
Alexe @
Alexe Creationz
I also received this award from Alexe today too :-) Two awards in one day and from the same awesome Friend. Thanks again Alexe!!!
I have to give this award to five others so I will be updating this post with that list shortly...
UPDATE TO THIS POST...
Sorry it took so long to gather some new blogs to give awards to, but my son was sick with an ear infection and had a relapse after only a few days of recovery. I got sick from him and relapsed and now my husband is sick . HAPPY JOY!! We are all sick together, LOL...
So because of this I haven't been on my blog for a while and found I have lots more awards and some challenges too, so lets get these awards updated with new blogs to present them to then on to the other awards and challenges.
The five gorgeous blogs I would like to present these two awards to are...
Cathy AKA SillyCat @
Scrapping Sillycat's
Marianne @
Marriane's Creations
Margie @
Margie's Creative Layouts
Urban Mermaid @
Urban Mermaid Designs
Ivory @
Ivory's Designz
Enjoy your awards ladies, you deserve it! Your blogs and graphic designs are beautiful!!