This award I received twice!! ♥♥♥ Can ya feel the love? ♥♥♥ Its great when you are thought of, isn't it??? :-)
The friends award... Well that just says it, doesn't it??
"
FRIENDS
"
It certainly is great to have friends!!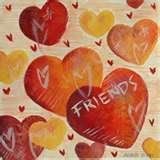 Thank you...
Kicki & Peta
My Dear Blog Friends for this award!
Pop on over to see what they have going on at their blogs...
Kicki @
Ki Made Creations
Peta @
PC Scrappers
Now for the rules...
I don't think it is set to how many you can give this award to. So, give this to as little or as many as you possibly can!! AND REMEMBER... this is the ♥♥♥
FRIENDS AWARD
♥♥♥
I will certainly be updating this post when I get some time :-)