I received my third award and I am so honored to post it. I have met some really great designers since I started here.
This very special award was given to me from Peta... Thanks for thinking of me sweetie!!
Her blog is lovely and she has lots of fun stuff to download too so take a peak at Peta's blog here...
PSP Scrapper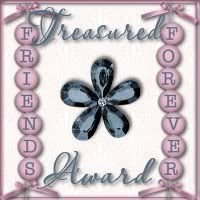 I now need to present this award to five other designers. This is so very hard because there are so many of you out there who have received this one already. Some more then once. So with this in mind, please give me some time to try and find those who may not have this award yet. Although all of my new friends deserve this award ten time more!!! :-)
I will be updating this post with that list shortly...

UPDATE TO THIS POST...

When I first started blogging I didn't know anyone. That was in November, only a few short months ago. Since then I have met some really great people and that's one of the things I was looking forward to :-)

When I received this award a few days ago I wanted to give it to all of my new friends, but like I said in this post above... all of you already have this one. Even though all of you are treasured friends to me, meeting new people is what I believe this is all about.
So with that in mind I have come across some really beautiful blogs. I believe that the creative girls who run these blogs haven't received this award yet and I would love to present this this to them.

The five lovely blogs are...

Shell @ Shells Designz

Donna @ Donna's Designzs

Maritza @ Scrappy Lover

Margit @ MH-Designs

Diane @ Candy's Treats Scraps