Hey everyone...
I haven't been posting on my blog for about a month. Things have been so hectic here that I just haven't had the time to create anything and sadly I haven't been able to post two new awards that I have received from my dear friends that I have made.
I am sorry for falling so far behind in posting my awards :-( All of my awards are very special to me along with the friends that I received them from!!!!
I have been helping my Mother who sadly has been very ill and needs my attention. Along with helping my Mother, my son had gotten several ear infections so my house work fell so far behind I am still trying to catch up. Whew... I am just exhausted.
I have lots of ideas rambling my brain and will be designing lots for the summer. I also plan on adding to my blog a layout page, tutorial page and some others that I will keep a secret for now :-)
So, for now, I am going to post my awards that I received and hopefully will be able to find new blogs to give them to. We all know that this can be a big challenge since lots of blogs have them already. But I do have to say that the saddest thing about giving awards is that when you take the time to blog hop and find new blogs that do not have any or few awards and present them and not to even get a response back really does take away the enjoyment of giving them to new blogs :-(
My last award post took me a long time because I really did "BLOG HOP" looking for new blogs that didn't have any or few awards and I only received a few responses :-( But I wont let it discourage me to much because I love receiving them and I love making new friends!!! And as I said before, to me, that's what I believe that this is all about!!!! :-)
So, now on to posting the awards...
I received this award THREE times :-) I certainly do feel loved!!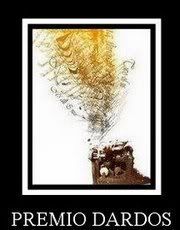 The Premio Dardos award acknowledges the values that every blogger shows in their effort to transmit cultural, ethical, literary, and personal values every day.
Thank you to my dear friends
Debb, Peta & Alexe
for thinking of me for this award. Sorry to all of you for not getting to this sooner!
You can visit these awesone designers at their blogs here...
Debb @
Shadedezigns
Peta @
PSP Scrapper
Alexe @
Alexe's Creationz
OK, now for the rules...
1) Accept the award, post it on your blog together with the name of the person that has granted the award and his or her blog link.
2) Pass the award to other 15 blogs that are worthy of this acknowledgment.
3) Remember to contact each of them to let them know they have been chosen for this award.
I will try to update this post with 15 new blogs when I can...